Named after the fourth largest city in Italy re-known for its art and architecture,
Tocca Florence
beautifully defines femininity. The city of Florence can be described as intellectual, artistic, spiritual, cultured, charismatic, collected and well-spoken. In thinking about the plethora of notable figures who contributed to Italian history such as the Medici family, Leonardo da Vinci, Michelangelo and Florence Nightingale, all of whom resided in Florence, it is no wonder
Tocca
created a fragrance dedicated to this majestic city.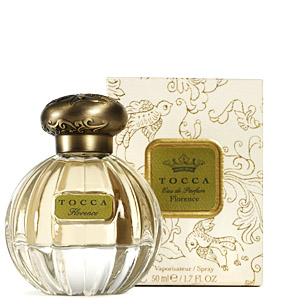 Tocca Florence
is the epitome of a civilized and luxurious tea at a posh hotel with a view. Ladies in frilly dresses abound wearing large hats and dressy sandals who speak about literature, culture and art. With notes of Italian bergamot, blue iris, crushed violet petals and blonde wood,
Tocca Florence
is utterly wearable, completely sophisticated and undeniably frou-frou. Not to be worn for those who abhor smelling girly, the notes merge to create a fragrance that is slightly sweet, mostly floral and somewhat fruity but not overly so. Its sillage is quite adequate as I have noticed the scent garners compliments every time I wear it.
If for no other reason than to own the gorgeous bottle, I highly recommend purchasing
Tocca Florence
. The Eau de Parfum comes alive when combined with the lightly scented body lotion, a magical blend of Centifolia, the old European garden rose, and root of the iris or orris root.
Tocca Florence can be purchased at luckyscent.com or beautyhabit.com, 1.7 fl oz. retails for $68. The body lotion or Crema de Corpo is available at beautyhabit.com, 8 0z. for $28.
Image source: wikipedia.org, luckyscent.com