Created by Gaye Straza Rappaport,
Kai
fragrance oil has become a phenomenon among celebrities and mere mortals alike. Ms. Rappaport spent her childhood vacations in Hawaii and after experiencing the islands and all their pleasures, longed to create a fragrance reminiscent of them. Hawaii is indeed a truly magical place. After spending two vacations there myself I honestly think it will require multiple trips to see all there is to see ... well, make that see, feel, smell and hear. From the lush foliage to the exotic flowers, the crystal blue water to the laid back attitude of locals, the islands instantly transform visitors in ways you can only speak about if you've been there. Mr. TMH and I had the pleasure of spending our honeymoon there so we describe it as "getting closer to the earth, closer to nature and more in tune with ourselves and the world around us."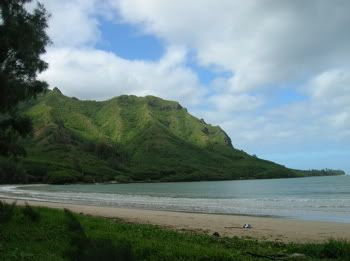 Difficult to capture in a fragrance? Most definitely. However, I believe Ms. Rapapport has done it. The fragrance is described as "an intoxicating blend of tropical gardenia and white exotic flowers." I agree the blend is intoxicating. The gardenia in
Kai
encompasses an entire gardenia plant, blooms to roots, minus the soil. While the incredibly green top notes lead to a creamy, soft and fresh heart,
Kai
is highly reminiscent of my earlier review of
Creative Scentualization Perfect Gardenia
without the patchouli note. Perhaps it is frangipani which is added to the blend? Frangipani is certainly abundant in Hawaii. The overall effect is a very clean, fresh, just out of the shower scent that is not overly floral but sweet enough to be called feminine. A perfect scent for relaxing summer days or to transport you to an island oasis on a winter day,
Kai
can be happily worn by those just venturing into the white floral realm. Those who already love the floral fragrance family will delight in this beautiful blend.
The good news is, if you are averse to perfume oil, the
Kai
range of products is bound to have an item to suit your tastes. These inlude body lotion, perfume, candles and even a handy "body buffer" that releases the scent of
Kai
in the shower.
Kai
is a gorgeous gardenia scent and a true winner in my book.
Kai products are availabe at beautyhabit.com, 1/8 oz. perfume oil retails for $45.
Image source: kaifragrance.com, the last two are mine, taken on Oahu