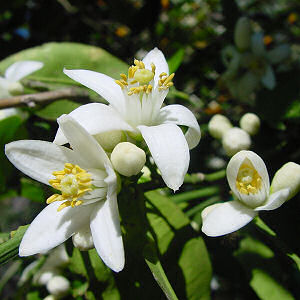 I feel very fortunate to live in a climate where orange trees prosper. I feel even more fortunate to have one in our back yard. During the month of March, the blossoms create such a gorgeous bouquet that I spend more time than usual on the patio. The calming yet uplifting qualities of the scent keep me going back for more and hoping to catch an additional whiff from a neighbor's tree. My imagination transports me to a sunny orange grove, where hundreds of trees are in full bloom and the sweet air that surrounds them has a transformational effect on anyone who pays attention. The world could be a better place if the fragrance of orange blossoms filled it abundantly.
Since I will not be harvesting a grove of trees anytime soon, I have settled upon an orange blossom scent that literally "takes me away" from stress, aggravation and worry. It transports me to a lounge chair on the patio, a grove of orange trees in Sicily, or a sunny day without a care in the world. And it does so with aplomb and the honorable distinction of a creation from
Serges Lutens
. It is
Fleurs d'Oranger
.
Of the orange blossom fragrances I have tried, including
L'Artisan, Jo Malone
and others, I have found most to vanish from my skin quite rapidly. Not so with Lutens'. The combination of notes unexpectedly adheres and lingers. They include white jasmine and Indian tuberose, which serve to enhance the orange blossom note, making it multi-dimensional, not heady. White rose adds interest while cumin, nutmeg, musk and hibiscus seed add depth and mystery. I would not call this scent deep, however. It is all about subdued sweetness and light. For those who find most orange blossom fragrances too linear or too sweet, this multi-faceted take on the flower could intrigue. I find it perfect for a lighthearted afternoon or to ease the mind during a difficult day of work.
Serge Lutens Fleurs d'Oranger can be purchased at Neiman Marcus in the U.S., 1.7 fl. oz. retails for $100.
Image sources: netstate.com, neimanmarcus.com