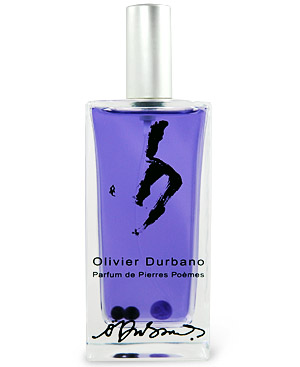 To stray from my usual, as Carole put it, "opulent white floral" craze, I am testing a fragrance said to be a spicy, woody perfume. Following my rant yesterday regarding imitation scents, this
Oliver Durbano
beauty promised a break from monotonous mass marketed fragrances. It arrived today in a precious box from Germany based (no less!) First in Fragrance.
The amethyst stone symbolizes spiritual balance. Its literal translation is "not drunken." Wine goblets have been carved out of amethyst to protect the drinker from intoxication. Catholic priests often wear amethyst jewelry to increase their closeness to the heavens. The balancing, protective properties of amethyst have been revered since ancient Egyptian times. Therefore, like the precious stone of its namesake, the scent should be clarifying, balanced, and protective.
Blatantly obvious by the name, if purple had a scent this would be it. I am happy to say I genuinely like this one. It is wonderfully exclusive, mysteriously spicy, slightly fruity and softly powdery. The notes themselves are cause for adulation:
Top: bergamot, pepper, grape, raspberry
Heart: incense, palisander wood, jasmin, orris
Base: vegetable amber, sandalwood, musk, vanilla
As I sniff my wrist, I pick out a tiny bit of grape, powdery orris, some incense merging with sandalwood and a slight offering of musk and vanilla. The bergamot, pepper, and jasmine evade my nose but obscurely offer balance to the scent. My senses are usually highly sensitive to incense and I refuse to wear fragrances that feature it. However,
Amethyst
's incense note only serves to encourage me to keep sniffing to discover its transparent, sparkling, and deep characteristics. For those who fear smelling of grape Kool-Aid, rest assured, this scent is vastly more mysterious and not nearly as sweet. In fact, I would not have identified grape without seeing it as a listed note.
I imagine wearing this beautiful fragrance on days where I need to be mentally sharp and powerfully intuitive. It most certainly is clarifying and balanced. Once I find a fragrance with protective properties, I will let you know, but I am willing to test it with this one. Finally, I am elated to say, this fragrance is like no other.
Oliver Durbano Amethyst is available at firstinfragrance.com, 100mL for 96.00€ and at Luckyscent.com, $105 for 100mL.

Image sources: luckyscent.com, jewelinfo4u.com