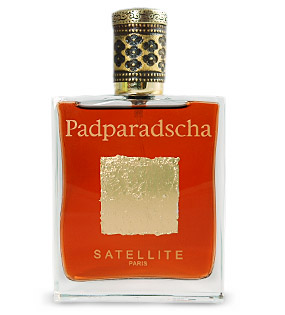 Named after a rare orange-pink sapphire,
Satellite Padparadscha
accompanied me during my day of air travel to see my grandmother. As I grabbed the sample bag to stash into my purse on my way out, I thought, "I hope this is a gem." How appropriate that statement proved and how incredibly ironic
Padparadscha
is the fragrance I chose - ironic because I have many samples to choose from. This rare beauty exemplifies the gorgeous soul of my grandmother.
Simultaneously woodsy, comforting and soft, the fragrance begins with a burst of juniper berry, pepper and cedar. I am reminded of walking into a cedar closet. Ideally it would be in my grandmother's home but she never had the means for one. If she had, she most certainly would have enjoyed and reveled in the absolute luxury of it. Her spirit is so joyful and child-like, extremely appreciative of the tiniest bit of beauty and luxury. The softness of this fragrance is enhanced by jasmine, like my grandmother's warm arms that served to love and comfort me through nearly every major moment in my young life, at least every moment she could. The best of the comfort remains in the woodsy dry down, containing notes of cedar, sandalwood and amber, conjuring for me a warm hug, a soft cookie and a sweet home.
Perhaps most appropriate is
Beautyhabit
's description of
Padparadscha
, "a fragrance that brings to mind … exotic destinations, secret gardens – and the beauty and strength of the feminine." Exotic destinations? My grandmother adores traveling and has had the pleasure of exploring Paris and the French countryside with her French sister-in-law, as well as the beauty and exquisite landscape of Greece. Never one to shun an opportunity to explore or learn something new, I imagine she has oft thought of other exotic destinations. Her love of gardening, birds and flowers is clearly demonstrated by her sanctuary of a back yard, complete with various bird baths, flower beds and wind chimes. Her tulips are in bloom now and she's waiting for irises and lillies.
Most importantly, my grandmother's internal strength and beauty as well as her external beauty emanates from her being. I could write novels of her inner strength, her glowing personality, her natural ageless beauty and her ability to see the good in even the worst of situations. She will always represent a strength and beauty to which I aspire and an exquisite combination of curiosity and love of all living things. In just a few short hours, I will be with her, and
Padparadscha
will be my fragrance.
Satellite Padparadscha is available at beautyhabit.com and luckyscent.com. A 100mL bottle retails for $75.
Image source: luckyscent.com