Of the fifty-four fragrances I have reviewed so far, a meager few fall into the category of "true love." I admit I am somewhat of a tramp when it comes to fragrances. Some fall into the fling category, others infatuation, others a brief encounter, while very few progress into a long-term mutually beneficial relationship. Those that maintain my attention must possess a few very important qualities. First, I must swoon each and every time I wear it. What do I mean by swoon? A long sniff of appreciation followed by a sigh of pleasure is a swoon. Second, I must desire to wear it more than once per month consistently for greater than six months. Better yet, I must desire wearing it several days in a row (gasp!) consistently. Third, I must never, at any time, find displeasure in wearing it. Is this difficult to achieve? Most certainly! With all that said, I am not the marrying type when it comes to fragrance. I will never settle down with just one and I doubt that will ever change. It is far more fun to mix things up.
Perhaps you are wondering why the diatribe about perfume infatuation, flings and relationships. Well, quite simply … I am seriously infatuated today. I mean I can't stop thinking about, sniffing and exploring the nuances of a fragrance. I am like a young girl staring out the window, lost in daydreaming about her object of affection. When he comes around, she blushes and squeals with delight and treasures every feature of his face, every aspect of his personality, anticipating a long-term relationship. Yes, that is me today, blushing, squealing and all.
The fragrance?
Bond No. 9 West Side
. *Sigh* It is really, truly incredible - incredible on my skin, incredible from start to finish. Pardon my gushing but I simply cannot help myself. (I feel I must go jump on the couch. Hold on a moment.)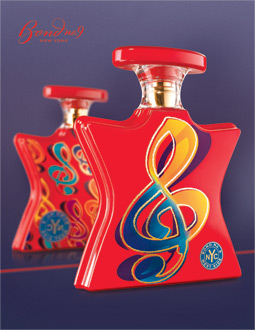 As I smooth my hair and clear my throat, I will break down its gloriousness for you.
West Side
pays homage to the music of uptown New York. The bottle design screams it with the juice inside appropriate for inspiration of song. The scent begins boozy, like a burst of loud music upon entrance into a jazz club. After adjusting to the noise level and settling in, greener notes appear, soothing the soul and encouraging more listening. The heart of the set is a lively number featuring rose, ylang-ylang and peony playing in unison with vanilla and amber improvising in the background. Finally, musk and sandalwood close the set with a soft, sexy number. Multiple encores distinguish this scent, allowing it to last well into the wee hours.
Yes, my friends, I am infatuated. I really hope our relationship progresses to true love. In that case, I will buy a 3.4 oz. bottle of this song-worthy scent.
Bond No. 9 West Side can be purchased directly from the Bond No. 9 website or at select department stores, including Saks Fifth Avenue. A 1.7 fl. oz. EDP bottle retails for $125 and 3.4 fl. oz. EDP retails for $185.
Image sources: photobucket.com, mimifroufrou.com