After a very busy week of work and a sense of overwhelming gratitude to finally be home, I am now ready to discuss the nuances of our Italian trip of a lifetime. My biggest challenge lies in trying to describe the thousands of sights, sounds and sensations we experienced over the course of eighteen days. However, what better tool to describe the details of each city than to take an idea I had prior to our departure: identify the fragrance that characterizes each city.
Our first destination was Taormina - an exquisitely beautiful, charming and emotionally inviting town built into cliffs on the east coast of Sicily. From the warm reception of our hostess Pina, to the delectable food and fantastic shopping, our experiences in Taormina remain my favorite portion of our trip. Taormina offered me a warm embrace as I recovered from jet lag and conditioned myself to cultural differences of Italy.
The day I discovered the fresh deliciousness of a Caprese sandwich (tomato, mozzarella, basil, oregano and olive oil on warm Italian bread), I also discovered the motherload of all perfume shops. Settled into Via Umberto Corso, the shopping mecca of Taormina, and very close to a basilica, lies a charming little shop called Narcisse. The owner Alessandra is a beautiful and intelligent woman and wisely stocks the most niche of all fragrances. As the rows upon rows of high end perfume bottles lay before me in this most unexpected of places, my jaw dropped and my mind churned in anticipation of what I would find there.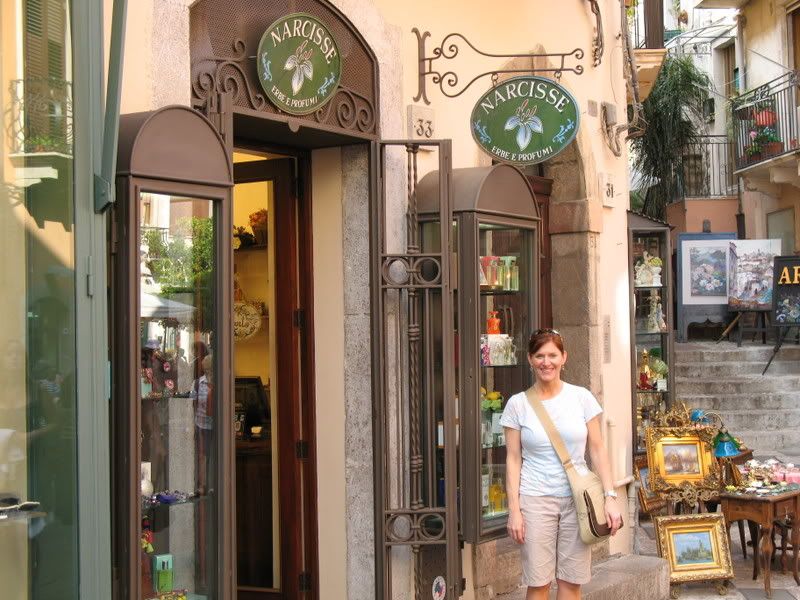 Upon my first visit, all I could do was stare and wander, overwhelmed by the intriguing collection, including Acqua di Parma, Annick Goutal, Creed, Dyptique, Etro, Maitre Parfumeur et Gantier, Molinard, Penhaligon's, Serge Lutens and more! After digesting the information in front of me, I left to consult friends on what I should purchase. I returned a few days later when Alessandra was working and she helped me to uncover a few new loves:
Nasomatto Absinthe
and
MPG Soie Rouge.
I purchased the
Absinthe
, figuring I would not be able to readily find it in the USA. I have not been disappointed with it so far.
Perhaps my love of Taormina has a little to do with the discovery of Narcisse, but not entirely. Taormina offered warm days lounging in the sun, shopping, and swimming in the Mediterranean Sea followed by dazzling nights of fantastic food, charming music, friendly locals and interesting events. Italians from "the boot" travel to Taormina to vacation so it truly epitomizes relaxation and offers majestic views. To characterize it, I must pick a comfort scent - one that is warm and friendly yet exciting, full of life and abundance. I cannot forget the "lemons on steroids" that I dubbed while we passed the local market, so the fragrance of Taormina must incorporate a citrus note as well. My choice is
Annick Goutal Les Nuits d'Hadrien
, my perfect citrus-y yet warm comfort scent. With an intoxicating combination of invigorating citrus, resilient cypress, energizing juniper and comforting vanilla and amber,
Les Nuits d'Hadrien
fits quite well. If only I could intersperse my work days with lunchtime in Taormina and a Caprese sandwich, life would be grand!
Image sources: Taormina post card - allposters.com; my own photo of me standing outside Narcisse