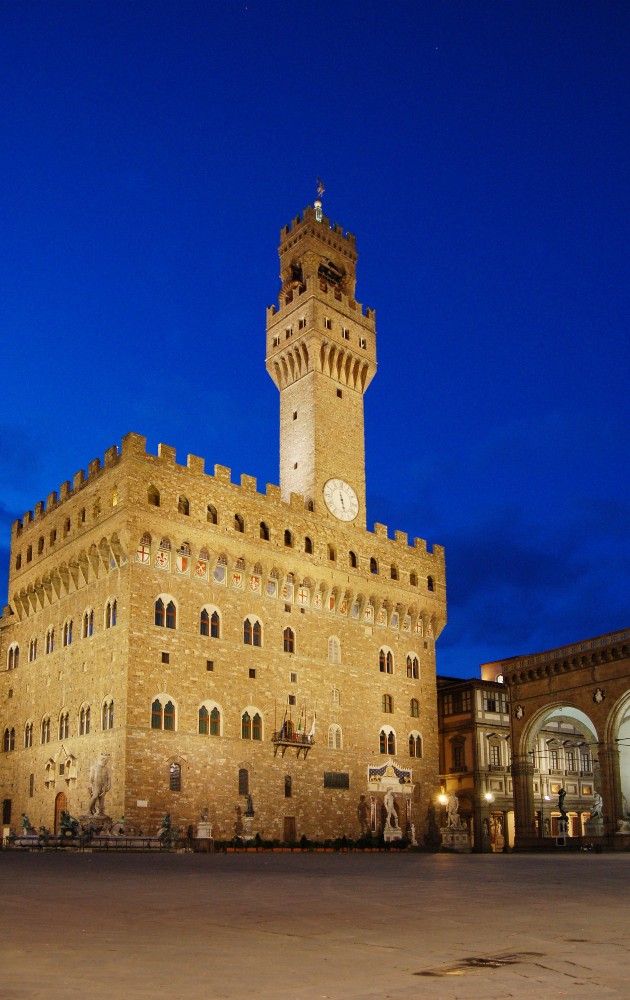 Mr. TMH here...
My smokin' hot wife and I have just returned from our vacation in Italy. We had many great times and we definitely made eternal memories. I was excited to watch Italy through her eyes and I continually was amazed at her strength and patience during what seemed at times an uphill battle. (Tutto tranquillo!)
I could go on about our wonderful trip but that is not why I came on here tonight. TMH256 has asked me to review
Terra di Siena
by
I Profumi di Firenze
. As she mentioned in a previous post, we traveled to Florence on Tuesday June 19. We were in search of
I Profumi di Firenze
. We stopped at several stores, asking where we could find this line of perfume (acqua odorosa = odorous water!) No one had ever heard of it. Strange, I thought. Being in "Firenze" I was certain we could find the "profumi" part without too much trouble. We temporarily abandoned our search and started to view the city's landmarks. We were in Piazza della Signoria (in picture) minding our own business when we came upon by mere coincidence the one and only shop in Florence that sells this exclusive line!
Erboista
apparently means "jackpot" in Florentine Italian!
I sniffed like Robin Williams on speed, going bottle by bottle. It became evident that nearly all of the scents were for females. I was at the very least enjoying reading the names on the bottles...when, in an unfocused moment, I sniffed
Terra di Siena
. Santa Cleopatra!!!
Hello new favorite scent! I have searched high and low for the notes but no luck. I can say, from my very amateur perspective, that
Terra di Siena
is very light and very floral with a hint of citrus. Since you can't buy it here in the states and the chances of you getting mine are about as good as getting Dick Cheney to smile, maybe this will help: imagine
Dolce & Gabbana Pour Homme
as a non-smoker. It struck me immediately as being very close to it without the tobacco. It's one of those scents that will always remind me of Italy. This is definitely a scent that can go both ways but if a man is to wear it he must be very confident in his persona and he must wear it because HE likes it first; not to impress anyone else (that comes naturally). You see, I'm convinced that as a man becomes more confident his skin undergoes a chemical reaction, that when blended with
Terra di Siena
, becomes irresponsibly charming. I sprayed this while we were in the store and throughout the day, combined with a bit of perspiration from my skin, this scent did not fade in the least.
So, what sort of outfit do I imagine wearing with this scent? An Italian suit, classy tie that most American men would say doesn't go with the shirt and suit, with one of those REALLY wide European knots, too. Dark brown shoes that make lots of noise when I walk because they're Italian and they have leather bottoms. Nice watch and briefcase because
Terra di Siena
is important and has to be places. This scent is disarming to others, mood-altering if you will.
The only bad news: I lost about 3ml on the plane due to the rough handling of my luggage.
Quei bastardi!