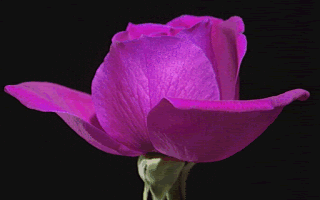 Recent fragrance polls asking me to name my favorite rose perfume re-inspired my adoration for
Stella Rose Absolute
. She is close to my heart as she accompanied me to a very important event: the first meeting of my husband's entire family! His brother's wedding was the venue and
Stella Rose Absolute
was the featured fragrance. I recall a guest commenting, "You smell amazing!" Blushing and humble, I quietly acknowledged to myself that this was truly a winner.
Relegated to her stately spot in the middle of my collection, she hasn't seen much play lately. But let's talk about this beauty. I liked the original Stella but it's ambery rose scent evaporated too quickly on my skin. I therefore purchased Stella Rose Absolute at a Saks beauty event hoping she would stay a while. And she does! This gorgeous scent is for bombshells. (Ironic that I wore it to a family event, eh?) While I realize I may be tooting my own horn by saying that, when I want to feel like a bombshell I wear this. "Sensual, feminine, intense" is what Sephora says. I would add soft, well-rounded, sophisticated.
With notes of rose, peony, mandarin, rose absolute and amber, this fragrance reminds me of a scene in the recent film Perfume. Dustin Hoffman's character, the perfumer Giuseppe Baldini, teaches Jean-Baptiste Grenouille, the main character, how to extract scent. Thousands of roses are imported from the French countryside and loaded into a magical machine. The long process extracts scent from the roses and Jean-Baptiste eagerly awaits the outcome. Finally, as the long anticipated drop plinks to the bottom of a glass Baldini says, "The soul of a rose."
Stella Rose Absolute exudes the soul of a rose with class, ease and softness. The amber adds just enough intrigue as to beckon others to you. As you hold your nose to a rose's petals to take a deep whiff, so does this perfume require some closeness to capture its true beauty. It certainly will not knock others over and for that I adore it. True bombshells save the best of their allure for those close to them. After all this talk, I think it is time to pull her out of her spot and show her off, perhaps while wearing a low-cut, sexy number ...
Stella Rose Absolute is available at Sephora. A 1 oz. EDP spray retails for $46.