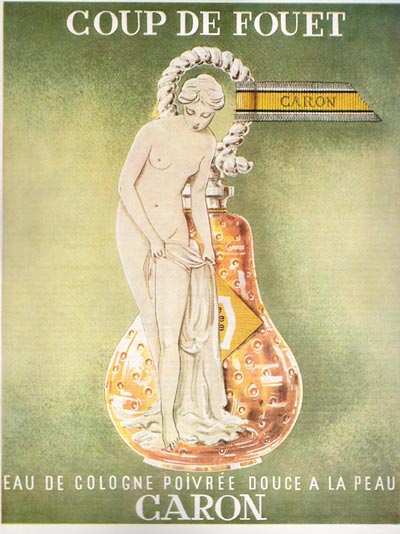 After glancing through my list of reviewed fragrances, I discovered that the house of
Caron
eluded my radar for the past four months. This illustrious house, which recently celebrated a century of fragrance devotion, remains true to fragrance as an art form by bucking fashion trends.
Caron
persists in employing an in-house nose. In so doing, it ranks among one of the last original perfume houses. Caron has created magnificent fragrances like
Aimez Moi
,
Parfum Sacre
and
Lady Caron
.
Today's pick,
Coup de Fouet,
translates to "crack the whip." This is no wallflower scent and yet it does not smack you in the bum as the name suggests. Similar to
Poivre
which is the extrait de parfum of this wonderful scent,
Coup de Fouet
's blend is based upon a spicy accord, within which carnation and other florals weave beautifully. At first dab, the scent is spicy and sharp, featuring quite vividly red pepper and black pepper. However as the fragrance dries, carnation blooms with ylang ylang to create a soft, sweet, and floral bouquet. The fiery floral heart is what I favor, as the aromatic spices and innocent flowers play together agreeably. This aspect of the fragrance vaguely reminds me of a Chai tea latte, with its savory, creamy merging of sweetness and spiciness. As in the making of Chai, sweetener must be added to highlight the robust spices. So it is with
Coup de Fouet
where contrasting elements create an exquisite harmony. Opoponax, sandalwood, vetiver and oakmoss compose the balsamic base of this fragrance, giving it a smoky, woodsy quality. The entire effect creates a sophisticated, classic, surprising and refined blend.
I find it entirely wearable for evening and dressier occasions. It will most certainly inspire curiosity as to its origins, for not one currently marketed fragrance remotely resembles it - one of the many loveable aspects of a creation from
Caron
.
Coup de Fouet, like so many masterpieces, has proved quite difficult to find. I am open to suggestions for places to purchase!
Image source: pubsparfums.free.fr.com