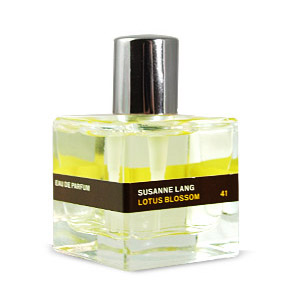 Susanne Lang has dedicated herself to creating perfumes which represent women's beauty and uniqueness. She aspires to subtle beauty with her scents and describes it as "an elusive quality that often lives in the veils of a woman's presence, but also within the lingering aura of her absence" -how elegantly stated. Therefore, it is no wonder "elegant" is the word I would use to describe each scent she has created.
From her layering wardrobe, today's pick is
Lotus Blossom 41
. With delicate notes of pink lotus, ginger lily, Tahitian gardenia, yellow freesia and peach blossom, the fragrance opens with a lovely bouquet. The notes dance around one another rapidly, without one standing on its own, creating a fresh, breezy fragrance that could be worn to work or to a night on the town. The scent remains fairly linear after it dries, maintaining that same delicate balance from start to finish. Because the scent lacks a deep and grounding base note, it remains somewhat transparent. And yet, transparency makes it the charming, light and feminine scent it aspires to be.
Susanne Lang suggests layering her fragrances, and just for kicks I decided to layer
Lotus Blossom
per her suggestion with the earthy
Tamboti Wood 61
.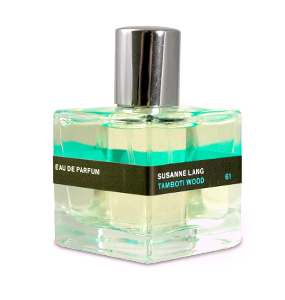 This combination is wonderfully divine, as the cedar and sandalwood provide an ample foundation for
Lotus Blossom
to shine. It produces a deeper yet still luminous, feminine scent. For those favoring woodsy scents but looking for a great springtime fragrance, Lotus Blossom over Tamboti Wood must be tried!
Susanne Lang Lotus Blossom and Tamboti Wood are available at fragrancesandmore.biz and luckyscent.com. A 30mL bottle retails for $50.

Images source: luckyscent.com