This past weekend I had the pleasure of not only meeting Sarah Horowitz-Thran, perfumer and founder of
Creative Scentualization
, but also attending a workshop she facilitated. The featured fragrance to convey her thoughts and ideas? The creamy and interesting
Perfect Gardenia
.
Sarah began the study of this fragrance by describing the gardenia plant - the creaminess of the petals, the lush green of the leaves, and the dirtiness of the earth from which it grows. Her goal with this fragrance was to capture the entire gardenia plant, roots to petals.
The fragrance begins with a burst of bergamot, followed by lush gardenia and clean freesia. To me, this is what you see of the gardenia plant, the green coinciding with white, the smoothness of the petals and shine of its leaves. The fragrance concludes with french vanilla and patchouli. These notes conjure up the feeling and smells of the plant itself, the silky and creamy texture of white petals above the cool dirt where they originate. Overall, Sarah has very successfully achieved the essence of an entire gardenia plant.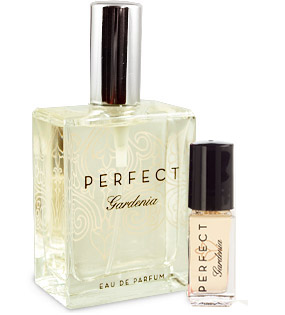 During the workshop, the patchouli was so offensive to my nose I couldn't even sniff it. What was most appealing? The bergamot, freesia and french vanilla. I've always guessed my favorite notes as citrus, white flowers and vanilla. Sarah's workshop definitely cemented my suspicions. In fact, I am so sensitive to patchouli that I detect it with the first sniff of
Perfect Gardenia
.
However, the other notes are prominent enough to sway my senses and although this fragrance cannot be called my favorite gardenia, it is definitely beautifully composed and true to the perfumer's vision. And unlike so many gardenia scents available, it possesses mysterious, subtle and non-cloying qualities. Huge thanks to Sarah for her patience and most of all her passion! I look forward to reviewing her newest creations very soon. And I will most definitely purchase multiple fragrances from her unique line!
Perfect Gardenia can be purchased at www.luckyscent.com, 1.7 oz. retails for $75 and right now you will receive a free roll-on oil with this purchase.
Image source: www.luckyscent.com