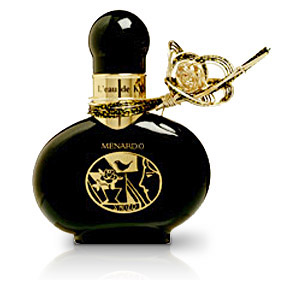 The bottle, designed by the famous painter Shozo Shimada, beckoned me initially. I thought to myself, "How could a scent with such a gorgeous bottle be anything less than gorgeous?" So into my shopping cart a sample went as I tried to get my hands on something new to review. This scent accompanied me through my arduous day today. And when I needed a diversion, I sniffed my wrist. The juice did not disappoint.
Similar to
Chanel No. 18
, this fragrance contains ambrette seed. However, with the addition of many other notes, the ambrette in this one becomes somewhat faint and distant. I must say I strongly dislike this scent for the first full five minutes. On my skin, basil creates a fragrance that I simply abhor and I am sure you would also. I could not distinguish exactly what it was, so I kept thinking of it as "eau de body odor." However, this is easy to get around with a little faith and trust that it will pass, because it does. Like a flower blooming into beauty, this fragrance unfolds slowly and delicately, and at full bloom it becomes soft, mysterious, and sexy. Rose plays a prominent role, with citrus, carnation and jasmine a close second. The spices remain in the distant background. Sandalwood, vanilla and musk provide that mysterious, furtive quality that renders this scent a bombshell. Beauty is sometimes fleeting, flowers die and youth fades. So does this scent, but it does so softly, to a musky, woodsy base for the remainder of the day.
L'eau de Kasaneka
is a unique floriental and quite different from most I have tried.
At its price point, I would purchase L'eau de Kasaneka in a New York minute for opulent evenings, provocative candlelit dinners and long, slow dances. And that bottle! It definitely matches the liquid within.

Notes: Hamanasu (Japanese Rose), Basil, Ginger, Nutmeg, Cardamom, Bergamot, Orange, Carnation, Heliotrope, Jasmine, Ambrette Seed (Hibiscus Family), Sandalwood, Vetiver, Cedar, Vanilla, Musk
Menard L'eau de Kasaneka can be purchased at
www.luckyscent.com
. A 50mL bottle retails for $54.
Image source: luckyscent.com