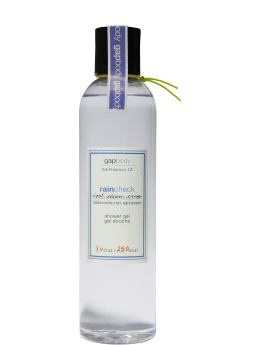 I am easily tempted by great smelling lotions and potions. Although I hate to say it, I could quite honestly be called a "sucker" for new scents. The products that have me dying to sniff today are made by
Gap
. Gap has produced delightful scents in the past including
Om
,
Dream
and
Vintage Vanilla
, all of which found their way into my collection at some point. I am intrigued after visiting their website today to discover a new line of bath and body products called Bath & Skin.
I have a plethora of body lotions and body creams, yet I am still drawn to them like a bee to honey. Somehow I believe I will never run out of lotion or perfume. Even so, I would love to try this new collection.
Here are the choices, as described on the website:
Island Hop - A delightful and inspired cocktail of coconut water, pineapple puree, and hibiscus petals, laced with a hint of white amber.


Rain Check - The floral-drenched beauty of cactus flower and misted hyacinth petals enhanced by crushed green leaves.



Love Shack - An exhilarating rush of red raspberry and passionfruit sorbet, charmed by a bouquet of honeysuckle and jasmine water.



Sugar Snap - A tantalizing blend of pear flower and dew-drenched lotus, grounded by creamy white woods and a dash of musk.



Moon Walk - A sumptuous tapestry of soft, nuzzly notes like creamy paperwhites, vanilla orchid, nubuck suede, and a touch of clean musk.



Sunny Side - A luminous medley uniting refreshing white peach nectar and pink grapefruit tonic with sweet honeysuckle and muguet against the light sensuality of cool blond woods.



Peace Train - The soft serenity of lavender, quiet chamomile and comforting green tea, wrapped in soft sandalwood.



Nightfall - Sexy intrigue with white tiger lily, sensuous ambers, and Oriental incense, deepened by an undercurrent of mysterious dark woods.
Will these set fragrance or quality trends? Probably not. However, with body lotion, body scrub, shower gel, hand cream and bath salts (my favorite!) from which to choose and an inspiring price point, I will certainly give these a try. Perhaps I'll find a new hand cream to tote in my purse or a cozy new scent to layer.
Image source:
Gap