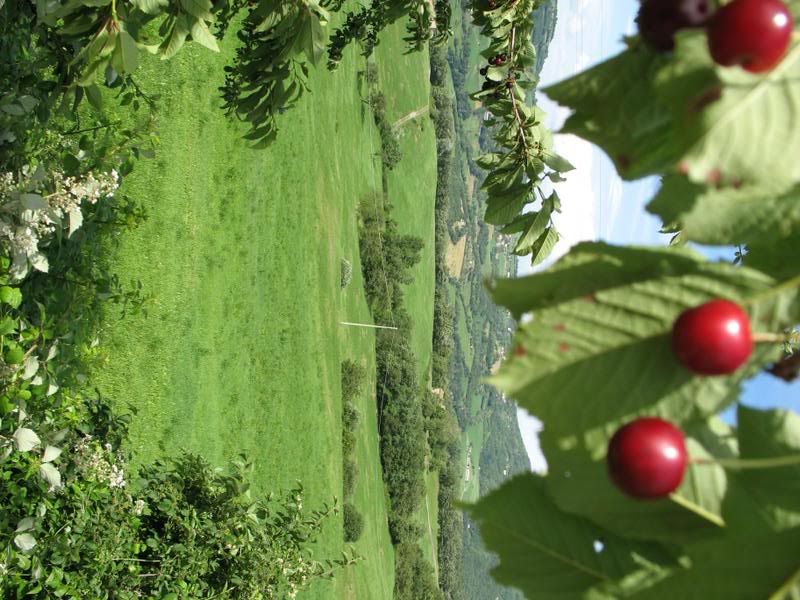 Now to the most charming portion of our trip - our time in Gaggio Montano - a tiny little town in the Bologna province of northeastern Italy. To call this town quaint would be a gross understatement. Set in the mountains with a population of just under five thousand, it defines tranquil and simple, yet it possesses an inherent overwhelming beauty.
I must boast a little. My husband has truly made a name for himself in this tiny little town. It is where he learned to cook and speak Italian and it is responsible for his intense love of Italian soil. I was fortunate enough to meet and dine with family and friends who were so instrumental in shaping his ideals and values, his culinary talent and his language skills. To see Gaggio Montano through the joyful eyes of those who live there by spending time in their homes was truly an invaluable experience. My heartfelt gratitude goes out to all who so graciously welcomed us.
Our time in Gaggio offered us a physical and emotional respite and cleansing. Clean, mountain air, genuinely warm, interested people and simple yet delectable food filled our days and nights in Gaggio. From the bird calls that woke us, to the green, rolling hills that streched as far as the eye could see, Gaggio Montano made an indelible impression upon my soul.
One of the most notable characteristics of this country is the abundance of flowers, fruit and wildlife. Roses, geraniums, hydrangeas and wild flowers seemed to bloom everywhere!
After taking a closer look at the umpteen rose bushes I came across, it appeared that they literally grew on their own without a lot of care and concern by a gardener. I took many photos of the flowers that beautified my days. Because of the abundance of fruit, many restaurants offered a bowl overflowing with peaches, bananas, apples and cherries as dessert. This charmed me as well as I repeatedly watched servers deliver what would cost a fortune in the U.S.
Much to my dismay, I was unable to satisfy my need for quick meals, large showers and large cups of sweetened coffee. Everything in Gaggio is steadfast yet simple. The Italians value food, therefore they prioritize the time taken to eat it. To order a meal "to go" would simply be a shame to the art of breaking bread together, and therefore it is just not possible in Gaggio Montano. In addition, it is by simplifying life that the people here devote time to what matters most, spending time conversing face-to-face with family and friends. Coffee bars are the meeting place. The espresso served there? Steadfast and simple - high quality beans, tiny little cups, no fuss, no fluff. Compared to my fast-paced, large coffee and activity filled days at home, I found it refreshing despite my resistance. Consequently, Gaggio Montano is characterized in my mind as simple, cheerful, gorgeous, meaningful, charming, and fresh.
The fragrance to depict this town is from
Les Parfums de Rosine
collection, a less obvious, fresh and beautiful line that focuses on one note and does it extremely well: the rose. Considering the abundance of roses I saw as well as the overwhelming amount of greenery and fruit, my choice is
Roseberry
. "An eau with a definitely joyful and stimulating fragrance. It brings a waft of good mood. It opens with the green notes of blackcurrant bud and blue chamomile. The classic heart resumes the floral accord of Turkish rose, dog rose, and raspberry leaf absolute. Its sillage is amplified in the sandalwood and vetiver" according to La Mure Favorite.com. After hearing about my experiences in Gaggio, I think you would agree the scent fits.
Image sources: My own photos taken around Gaggio Montano, Italy